When you are building a home, you want to keep it clean and without any clutter. Your mudroom is the place that will do this for you. Mudrooms are usually adjacent to the entrance. This is the place that holds the majority of the clutter of your home. So, when you are building your custom home or giving a luxury retouch to your old home, you need to ensure that you design your mudroom perfectly.
Mudroom design by custom home builders
When it comes to the interior design of your mudroom, you need to create a space where your family members or guests can come and sit while taking off their boots, coats and jackets, placing wet umbrellas or raincoats. After playing outside for hours, your kids will be coming and leaving their dirty shoes and boots in this room too. This place is meant to manage the clutter of the house so that the rest of the house looks clean and tidy. Now, if you are planning a mudroom for your home, you have to make sure that the place looks functional with plenty of storage. At the same time, as your guests will see this place first after they enter the house, so it should feel warm and welcoming. That is why you need to create a luxury mudroom with a custom home builder in Vancouver. Hire a company like Roadhouse Homes and ensure you are using the following ideas.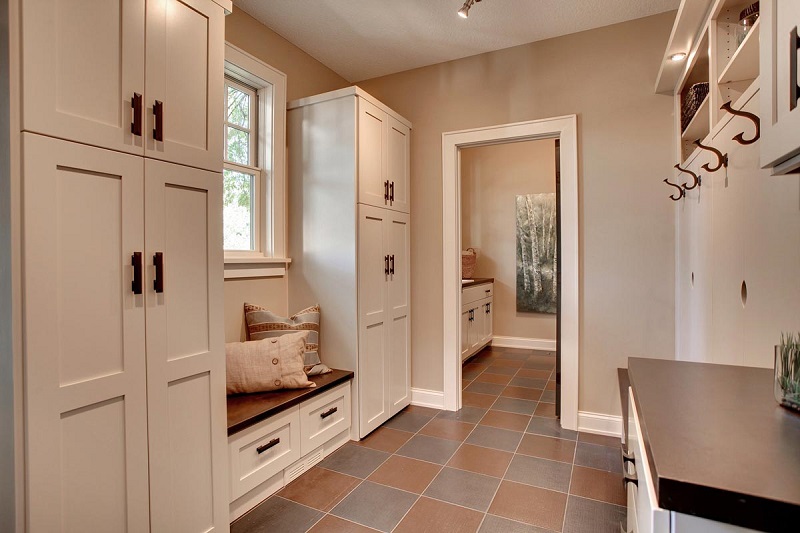 #1. Built-in cubbies
This is a must for your mudroom. The mudroom should come with plenty of storage. It will store the shoes and the boots of you and your whole family. The coats, jackets and raincoats will be there too. If you have concentrated in a garden in your yard and you regularly maintain it, then the mudroom is going to be the place where you store things that you need for your gardening. From your toolbox to dirty laundry, this room will house it all. Hence, you need plenty of storage. When Vancouver builders are making this place in your home, make sure you are getting plenty of built-in cubbies.
#2. Warm details with seating
Before your guests go inside the house and in the living room, they will be leaving things here and will spend a little time telling how their journey was to your home. This place is usually meant for some warm-hearted conversations. That is why you need to ensure this has some warm details. If the room has a window, then take advantage of that space! Right in front of the window, have some seating arrangements. Throw in a rug and a few cushions. Maybe keep a bench in this place. It doesn't have to be anything too fancy, but you could drape your windows with some beautiful blinds to add some sophistication to the room.
#3. Places for hanging and stashing
In terms of the style of décor, your mudroom is going to be the most casual spot around your whole house, so you can be a bit whimsical with the décor. Keep places for hanging. People will need to hang their bags, coats, dripping raincoats and umbrellas and jackets. Keep a few baskets for stashing things as they will hold things like dirty balls, rackets or socks.
#4. The flooring
This is a tricky thing. Even though you want this room to look great, you need to understand the functionality of the place. That is why the flooring of the room is important. It should be something that is easy to clean and maintain. Tiles or stone flooring will be great compared to hardwood. Using an area rug or carpet might not be a great idea for the floor as that will be difficult to maintain and might increase the chances of accidents.
So, now that you know about how to design your luxury-looking mudroom, what are you waiting for? Hire the reputed builders of luxury custom homes in Vancouver and let them take over.