A garden can easily become much more with the right decoration. It doesn't have to be boring and unoriginal, nor should it. Every garden needs a personal touch that gives it its special quirk and authenticity. People usually think that you need to add luxurious and expensive things to your garden to make it stand out, but that's not always true. The important thing is that you make it personal and beautiful to you. That being said, there are five features that no garden should do without.
#1. Bridges
If you're looking for out of the ordinary garden features that spread positive energy, you should make a few bridges. They're not very hard to construct and offer a unique overall look of your garden. The best part is that you don't need to have water running beneath it to make it look amazing. Then again, if you do have a small stream or lake in your backyard, you can construct a bridge for a more aesthetic look.
You can choose between many different types and styles of bridges, and they all depend on what your garden looks like and what you like. This way, your bridge will really be yours, personalized and innovative.
#2. Garden paths
To create an organized garden, you should lay down some paths. They are great for marking boundaries and leading your garden in certain directions. Most gardens only have one garden path which leads into the garden, but depending on the size of your garden, you can have more.
Garden paths don't need to be strictly practical and can serve just for decoration. What's more, you can choose from plenty of different materials to complete your garden. The most common is stone because of its sophisticated look and superb weather resistance. Finally, it's further customizable with a plethora of different designs and patterns.
#3. Water features
Water features are a brilliant way to introduce some serenity in your garden. Not only do they make the whole place look more natural and elegant, but the sound of running water is very relaxing for the mind. This way, you'll be able to sit in your garden and unwind while the sweet sound of water washes your troubles away.
There are many types of water features you can introduce to your garden, fountains being the most popular. This is because they're practical, low maintenance, and go well with any kind of other decoration. They also sometimes attract birds which are a lovely sight for any garden.
#4. Garden structures
Garden structures offer a piece of privacy in any kind of garden and can be tailored to specific needs you might have. The most popular are pergolas as they are easy to construct and are absolutely eye-catching. This structure is purely decorative but can be a very practical escape from the world.
To ensure you have enough privacy you should get a beautiful pergola awning to top off your pergola. These will not only keep you safe from prying eyes and give you peace but will also make your garden extra classy.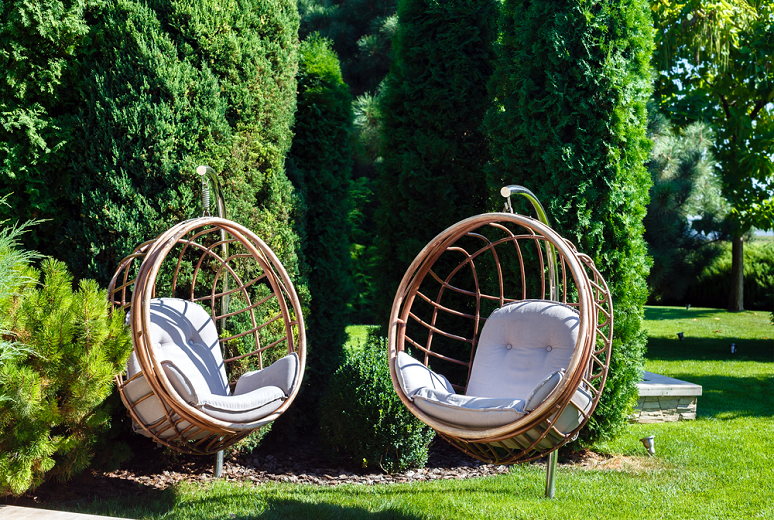 #5. Garden furniture
Furniture doesn't have to be reserved just for your house. Garden furniture is also quite popular and handy. There's nothing better than relaxing outdoors after a long day outside in the fresh air, in your beautiful garden. There are various outdoor couches, chairs, and tables you can choose from.
The important thing to pay attention to when you're shopping for outdoor furniture is its weather resistance. If it is weather resistant, you won't have to worry about rain or wind damaging it. On the other hand, if you have a closed space in your garden, you can bring indoor furniture outside.
As you can see, these features are more of a necessity than a luxury. They're bound to make your garden the place you want to be. Gardens are ideal for relaxation as they offer private space to collect your thoughts and destress from daily life. That's why everyone should pay special attention to their garden. If the ornaments and decoration do it justice, it will become your favourite place in the house. We're confident that you can achieve this and much more with the right features!